{category.name}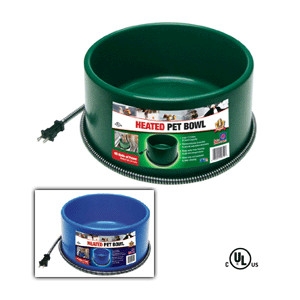 UPC: 085045003193
Manufacturer: Farm Innovators
Large 1-1/2 Gallon Capacity. Thermostatically controlled to operate only when necessary. Heavy-duty "anti-chew" cord protector. Great for large dogs. Guaranteed for One Year.
UPC: 084369012508
Manufacturer: Miller Manufacturing Company
Helps prevent water from freezing in temperatures as low as 10 degrees F. Designed for use with Double Wall Founts and other metal containers. Perfect for outdoor use in a dry, sheltered area. Cord should be protected from animals and used with a ground fault protected outlet. Unit will not draw electricity until temps drop below freezing. Uses less than 1 amp per hour. Galvanized Steel. 125 Watt.