{category.name}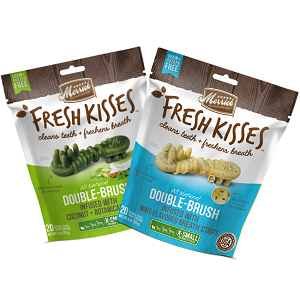 Merrick Fresh Kisses™ are an innovative, natural dental treat designed not only to clean dog's teeth, but to truly freshen breath at the same time. Merrick Fresh Kisses feature a double-brush design to clean teeth by removing plaque and tartar as the treat is chewed.
Fresh Kisses are made with all-natural ingredients specially formulated to freshen breath. Merrick Fresh Kisses are also the only dental treats to be both grain-free and potato-free, and like all Merrick treats, Fresh Kisses are safely cooked in the USA with no ingredients from China.
Alters the PH of a dog's saliva to control tartar production and curtail offensive mouth odors.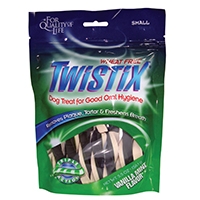 Twistix® helps remove plaque, tartar and freshens breath using co-extrusion technology for Triple Action cleaning power. The green color has vanilla, peppermint, parsley and chlorophyll to freshen breath and the white color contains sodium hexametaphosphate, which cleans teeth by removing plaque and tartar during chewing.